EMR partners with MECOCO to offer disabled people employment opportunities
Local social enterprise MECOCO, which offers work experiences for disabled young people, has benefited from a donation from a local metal recycler, EMR Kilmarnock, based on Burnside Street.
2021-05-27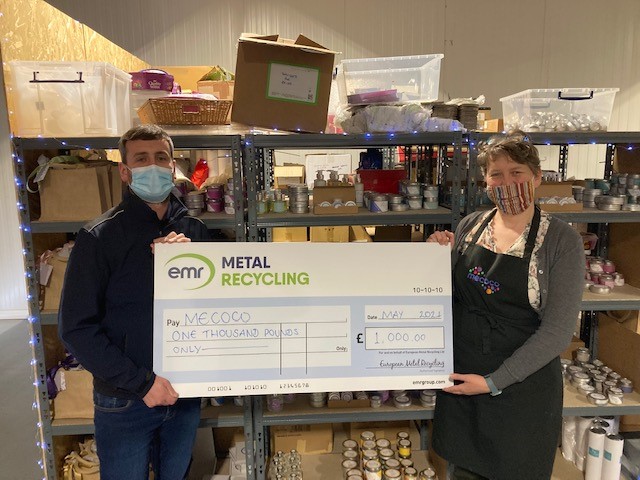 MECOCO, based in North Ayrshire Scotland, was founded by three women who have children with complex disabilities. The name stands for 'meaningful contribution in your community', illustrating their inclusive ideology of disabled and non-disabled individuals working side by side as colleagues.
The social enterprise adapts its facilities, processes and even products to ensure that those with a disability can enter their workforce. Volunteers make a number of home accessories such as candles, reed diffusers and melts.
EMR's donation will be used to complete MECOCO's new workshop, which is currently an empty shell, ensuring that it is accessible and an appropriate workplace for their volunteers; enabling them to provide opportunities for more young people. The donation was given as part of EMR's Young Futures Reimagined programme, an initiative which aims to support young people within the communities in which they operate.
Anthony McCloughey, Operations Manager at EMR Kilmarnock said:
"At EMR we are passionate about supporting the communities in which we operate. Our Young Futures Reimagined programme aims to empower young people up and down the country to build brighter futures. We are extremely proud to support MECOCO to be able to support more people within our community.

"The work carried out by Jenny and the volunteers has an undoubtable impact on these young people, offering them opportunities that are often not available to them and building their confidence."
Jenny Trott, Director of MECOCO described the difference that EMR's donation would make:
"All the team at Mecoco are so excited to start back at work making candles as soon as the Covid restrictions allow. It would have been impossible to have everyone at our new workshop without the accessible facilities that they need, and so we are incredibly appreciative of the support from EMR to help make that happen."