EMR Blackburn improves young peoples' career prospects
Blackburn Youth Zone receives support from local metal recycler to help improve young peoples' career prospects
2020-03-12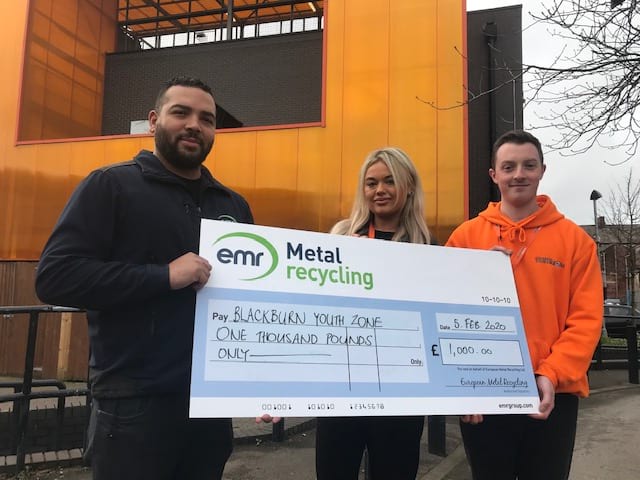 Local metal recycler, EMR Metal Recycling, based on Gorse Street, has donated £1,000 to Blackburn Youth Zone's skills programme.
Improving the career prospects for local young people, Blackburn Youth Zone is using the donation to teach employability skills, such as digital coding, to those less likely to have access to job opportunities.
Blackburn Youth Zone offers support and activities to over 1,000 young people a week, ranging from 5 to 19 years-old (and up to the age of 21 for those with additional needs) and provides a safe place for young people when they are not at school. The programme also supports those attending with targeted employability help, such as CV writing.
In addition to the monetary donation, EMR will work with Blackburn Youth Zone to organise group site tours at its Gorse Street facility. The team will also introduce Youth Zone members to the Recyclabots programme, which teaches young people about the importance of metal recycling.
Ben Smithson, EMR Blackburn Area Manager, comments:
"As a local employer, nurturing the employability skills of young people in the area is of the highest importance to us. And the work carried out by Blackburn Youth Zone is crucial to this.

"The skills programme is a fantastic way of equipping Youth Zone members with very relevant tools for today's working world. It's an initiative that we're extremely proud to support here at EMR."
Julia Wright, Head of Fundraising at Blackburn Youth Zone, adds:
"EMR's donation has had a big impact here: it's been spent helping a number of young people who are at risk of becoming NEET [Not in Employment, Education or Training] to gain valuable skills.

"We are now connecting these young people with local employers and hope that some of them will go on to find work or training opportunities as a result of EMR's donation."

Thanks to EMR donating through the Big Give scheme – a nationwide match funding platform that helps charities to multiply their impact – the funds were doubled.
Julia adds,
"Because EMR decided to donate through the Big Give scheme, this means their donation was doubled and has made twice the impact. I'd like to say a huge thank you to EMR for supporting local young people, it means a great deal to us."