EMR unveils strategy to achieve net zero carbon emissions by 2040
2020-06-25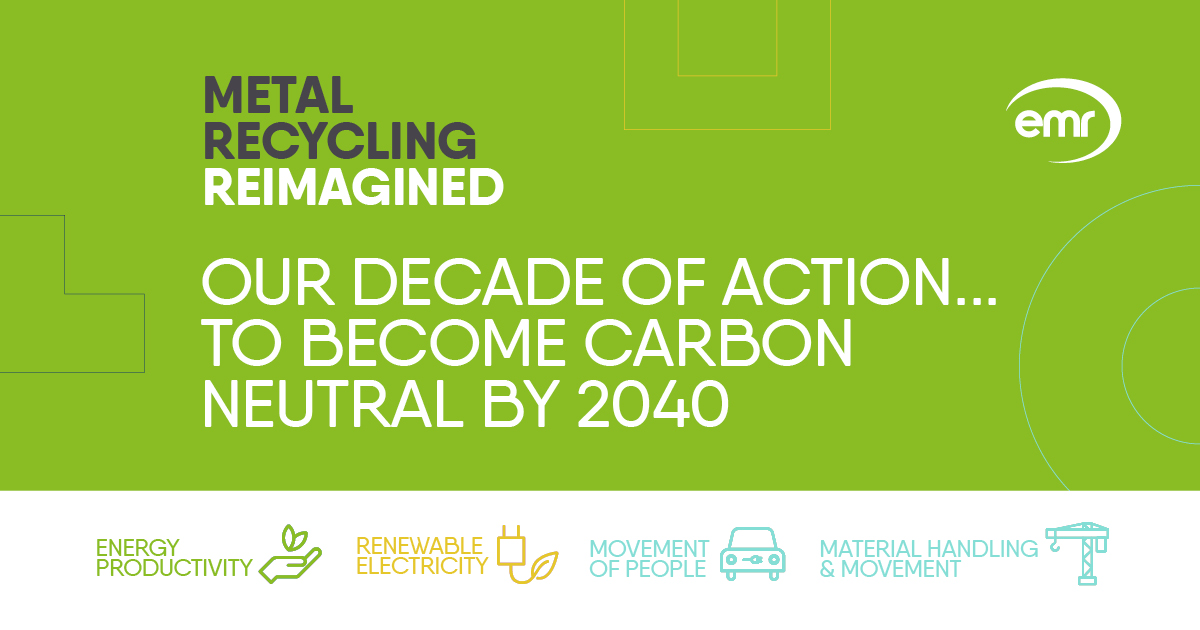 'Our Decade of Action' outlines ambitious emission reduction goals by 2030 set in the longer-term commitment of net-zero carbon emissions across its entire value chain by 2040
Global metal and plastic recycler EMR has launched its sustainability strategy, which sets out the business' target of net-zero carbon emissions across its entire value chain by 2040.
Our Decade of Action details the measures EMR will take over the next ten years on its journey to become carbon net-zero across the group with key targets and milestones.
The strategy establishes:
A 2030 net-zero target for indirect emissions created by the purchase of electricity or steam – defined as Scope 2 emissions under the Greenhouse Gas Protocol; and
A 2040 target for direct emissions from all owned and/or controlled sources, and indirect emissions upstream and downstream in the value chain – defined as Scope 1 and Scope 3 emissions respectively
To drive progress towards group-wide net-zero carbon emissions by 2040, EMR has joined three key initiatives from the internationally respected non-profit, The Climate Group. These include RE100 to accelerate the transition to renewables; EV100 to switch to electric vehicles; and EP100 to improve energy productivity across its global portfolio.
EMR's net-zero commitment is underpinned by targets set out in four pillars: renewable electricity, energy productivity, movement of people and material handling and movement.
The 2030 targets for each of these pillars include:
100% of operations operating on renewable electricity;
The electrification of 100% of cars and light commercial vehicles and 50% of small goods vehicles;
10% energy productivity improvement for total kWh per tonne of material handled.
All targets apply to EMR's operations worldwide and are aligned to the business' vision of becoming a global leader in sustainable materials.
Chris Sheppard, EMR Group CEO, commented:
"Our Decade of Action marks the start of an exciting journey for all of us at EMR. We're proud to set out our commitment to tackling climate change and conserving natural resources with a series of ambitious, group-wide targets.

"Using recycled materials to create new products has a huge environmental impact, saving between 50% and 90% of the energy and water consumed when creating the virgin equivalent. We recycle around 10 million tonnes of metals and plastics every year, resulting in savings of around 10 million tonnes of CO2.

"However, our products don't come without some environmental cost. Imagine being able to say that we create these sustainable materials with a net-zero carbon footprint? To achieve this, we need to go on a journey that explores new technologies and ways of working, to design carbon out of our business.

"Now more than ever, improving environmental performance, while supporting people and businesses to be more sustainable is essential. Committing to decarbonisation is key to driving the green recovery of the global economy in a post-Covid world, creating jobs and driving investment, while delivering on global climate objectives."
Sheppard continued:
"As a global business and a family company, we have a responsibility to minimise our impact and help build a circular economy where both people and the environment can prosper. Authentic change requires authentic efforts to implement more sustainable operations. If you put your mind to this, it's amazing what you can achieve. We've already transitioned 80% of our UK energy usage to renewable electricity and we already have plans to go further faster."
To download a copy of EMR's Sustainable Business Strategy, click here.