World Day for Safety and Health at Work: Why safety isn't an afterthought for EMR
World Day for Safety and Health at Work arrives on 28 April and is an excellent opportunity for EMR to celebrate the efforts it takes to make the metal recycling industry safer.
2021-04-28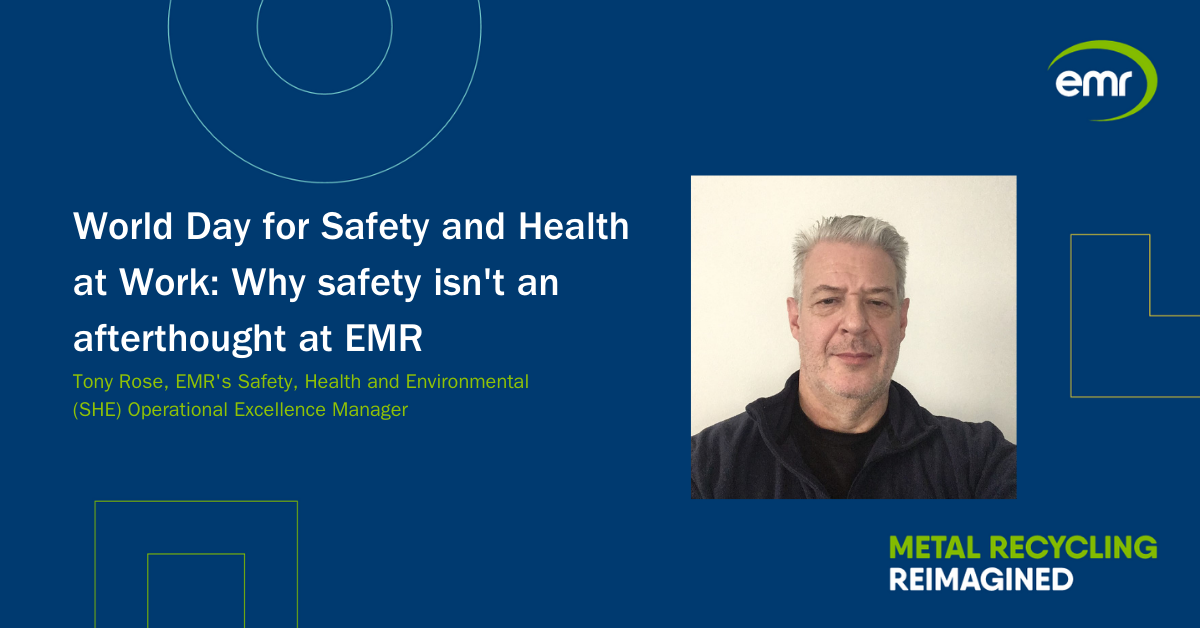 At EMR our culture is best described by the EMR way - we 'care' and we 'do'. We care about our people, customers, workplace and communities, and it is this that drives our ambition to make our sites a safe place for all.
"The work we do on site is demanding and sometimes highly technical. With that comes several risks," says Tony Rose, EMR's UK Safety, Health and Environmental (SHE) Operational Excellence Manager.
At the heart of EMR's approach to health and safety is its SHE Perfect Day objective. The vision that we start each new day with the expectation that it can be perfect, free of injury, major vehicle accidents and environmental harm. EMR has developed a range of strategies to achieve this vision.
The Stop Work Authority initiative empowers all employees to respond immediately to a hazardous situation. Whether an EMR employee is a newly recruited apprentice or a site manager with decades of experience, it is vital that every individual on site can halt an operation if they feel it could be unsafe.
"Through our team of SHE specialists and site managers, we have implemented an ongoing training programme that empowers everyone to identify any potential risk and give them authority to stop operations," says Tony.
Rather than jeopardising the productivity of EMR's sites, Tony is clear the Stop Work Authority policy safeguards it long term: ensuring EMR employees and third parties are not at risk of injury or worse.
Crucial in helping EMR staff make judgements about personal safety, we have recently updated our Life Rules policies and guidance. "Our policies and guidance remind and educate employees on how to remain safe when working at height, in a confined space and loading and unloading for example," says Tony.
While EMR has long placed health and safety at the top of its priorities, Tony says its drive to further improve safety standards is stronger than ever: "Since last year our SHE Perfect Day objective has become a key component of everything we do, if EMR meets a set of rigorous criteria for safety, it is recorded, shared and celebrated throughout the business as a 'SHE Perfect Day'".
This means that with good communications across the business, including the use of Incident Review Boards, lessons learned at one site can help improve the workings of every other site where EMR operates.
In recent years, what health and safety means to a modern business has changed as wider society has put greater focus on mental, as well as physical, health.
"At EMR, we now have trained Mental Health Champions, they've been given the skills to recognise and help with issues which other colleages may have."
Tony says this development is another vital step in helping keep EMR's employees safe: "If you've got a happy workforce and you're looking after their wellbeing, you're ultimately going to have a safer workplace."
Ensuring the health and safety of every one of EMR's employees clearly isn't an easy task but, as Tony says, what lies behind the work he and his team do, is a very simple motivation. "At the end of the day our biggest asset is our people, without them we don't operate. It's absolutely critical that they come to work feeling safe, knowing that the company cares about them and that they're going to go home safe too."
As responsibilities go, there aren't many more important than that.