EMR Glasgow helps young people
Achieve More Scotland boosts young peoples' wellbeing and employability with help of local metal recycler.
2020-03-04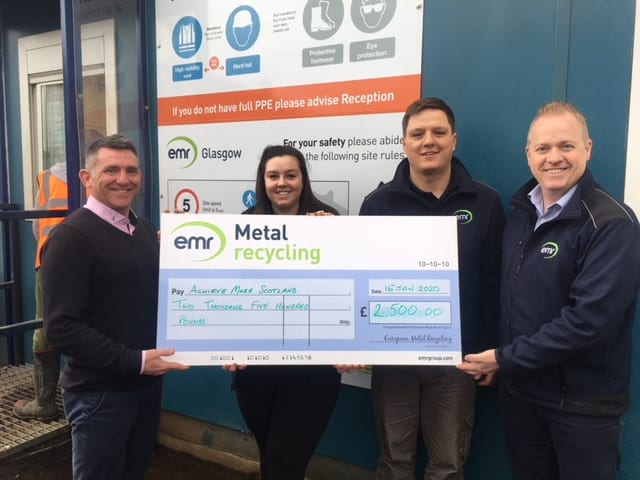 EMR Metal Recycling, based at South Street Glasgow, has joined forces with local charity Achieve More Scotland to help improve young peoples' wellbeing and employability skills.
Over the school holidays, Achieve More Scotland hosts a holiday activity retreat where young people aged five to 16 can attend a diverse range of free sports sessions. EMR has donated £2,500 towards this programme to enable the involvement of as many young people as possible.
The aim of the initiative is to develop young peoples' lives, and employability skills, through football coaching, dance and gymnastics, cricket, rugby and arts and crafts.
So far, some of the funds have been used towards the running of these activities over the February half-term, as well as paying for the transport from All Saints Secondary School to Petershill Leisure Centre. Food and drink is also provided at the retreats, ensuring that all those who attend have access to a nutritious meal. The remainder of the funds will be used to support the Spring Break activities over Easter (from 6-17 April).
The activity weeks benefit over 600 young people each, developing their skills and experience through classes they would not have the opportunity to attend through school.
Additionally, a portion of the funding is going towards meeting the transport costs for young volunteers to attend and gain first-hand experience of coaching children and young people, improving their employability skills.
This is bolstered by EMR's referral scheme for candidates (18+) that might be suitable for a job at its Glasgow depot. Site tours are also offered, alongside work experience placements.
Gary Barrett, EMR Area General Manager, comments: "At EMR we place a great deal of importance on supporting the communities close to our sites. Achieve More Scotland stood out to us as an organisation as it really makes a difference to the lives of young people in Glasgow. We're extremely proud to be supporting the team with its holiday camp programme this year, and are thrilled to see the results of the donated funds."
Robert McHarg from Achieve More Scotland, adds: "Achieve More Scotland is delighted to be working in partnership with EMR. The funding provided by the company has made a significant contribution to ensuring that hundreds of children and young people living in some of Scotland's most deprived communities have free access to sport and physical activity, a healthy breakfast and warm lunch and transport to ensure that there are no barriers to them being able to participate in our activities.
"We look forward to the partnership developing in the coming months and to many more young people benefiting from the generosity of the company and the opportunities that they can undoubtedly provide."